Daniel Rahn Memorial Research Grant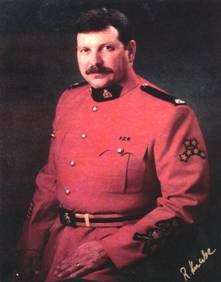 DANIEL J. RAHN
1946 - 2002

Excerpts from "A Tribute to Dan Rahn", IABPA News, September, 2002 by Insp. Bruce MacLean (RCMP):

"At the time of his death, Dan was the president of the International Association of Bloodstain Pattern Analysts. Dan put a tremendous amount of time and energy into this organization."

"Dan was without a doubt one of the finest forensic identification technician and bloodstain pattern analysts I have ever met. As you all know, he was extremely intelligent and possessed a gifted analytical mind."

"Dan was a free thinker and born rebel. Dan was thinking 'outside of the box' long before there was a box and it became fashionable to do so. Dan was not adverse to having a contrary opinion. He was always a man ahead of his time."

---

As a memorial to Dan, the IABPA has established a research grant intended to advance the science of bloodstain pattern analysis. One such grant (currently up to $3000 USD) is available each year.

Purpose
The purpose of the grant is to encourage research in BPA and to enable that research to reach the BPA community.

Eligibility
Applicants will either be a full or associate IABPA member in good standing or nominees of an IABPA full member, as well as mentored non-members.
Preference will be given to those who are not previous recipients of the award.
---
Dan Rahn Research Grant Committee
Chair- Lynne D. Herold, PhD., Senior Criminalist (Ret.)
Silke M.C. Brodbeck, MD, Ph.D.
Martin Eversdijk
T. Paulette Sutton, MS, MT (ASCP)
Brian Yamashita, Ph.D., Research Scientist
All application submissions are reviewed by The Dan Rahn Research Grant Committee.
Following the review process, the Committee Chair will forward recommendations to the Executive Board.

---
THE DEADLINE FOR THE
2021 DAN RAHN GRANT PROPOSAL SUBMISSION IS


NOVEMBER 30, 2020
All proposals received on or before the submission deadline will be reviewed
and a recipient will be determined in December.
Submission Procedures and Administration

Please review the documets listed below for complete details and instructions regarding the grant.

Application Submission
Applications may be submitted electronically to the
Dan Rahn Resrarch Committee Chair using the button below:
SUBMIT NOW